(BAC) Botanical Antimicrobial Cleaner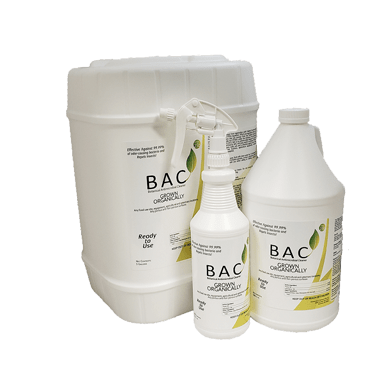 BAC (Botanical Antimicrobial Cleaner) is proven to be a 99.999% effective residual action cleaner.
Over 20 years of research, comprised of expert chemists and engineers, made with organic ingredients and recognized as safe under FIFRA by the EPA and FDA. Within minutes of application, BAC tackles surface damaging mold, organisms, pests, and insects, making it the leading antimicrobial cleaner for both commercial, residential, and agricultural use.
BAC is tough enough to clean surfaces in hospitals, schools, daycares and clinics; and yet gentle enough for household surfaces, including: glass, stainless, wood, carpet, and fabrics. BAC is safe for humans and pets- safe enough, even, to be used as a produce wash. BAC, when used on industrial remediation projects, both cleans and provides residual protection against future surface damaging mold and mildew.
BAC provides a sustainable, alternative to eco-destroying products. BAC can be applied as a mist (it doesn't need to be shaken or wiped off) and, unlike many harsh chemical products, it has mild wintergreen or lemon-fresh.
BAC's research team created a formula from whole plant naturally sourced essential oils, replacing toxic products and reimagining green, highly-effective solutions.
BAC is a much safer, organically grown antimicrobial, anti-fungal, and cost effective pest control product.
Our BAC Solution Combined With Our FogClean Machine
Our BAC (Botanical Antimicrobial Cleaner) is produced in the USA by Pervasive. And brought to you by Modern Supplies General Trading. Here is what our clients say about us:
Dear PreVasive, Our company recently started using Prevasive's products for mold remediation. I have been blown away with how effective they are. Not only do they give us amazing visual results, but our air quality clearance numbers have never been better. However, what I am most excited about is that these products are certified green and safest that we have ever used. This gives us a competitive advantage with our clients and eliminates exposure to our employees of some of the harsh chemicals we have used in the past. Our employees have given me incredible feedback on these as well. We have been using the OxyOrange for crawlspace cleaning and interior cleaning. The OxyOrange has outperformed any of the cleaning agents I've used in the past and has a very pleasant fragrance. I've also replaced our fogging agents and anti-microbial with BAC and it does an amazing job. Additionally, the Botanical HP has replaced our stain removers. Bottom line is we are now completing remediation jobs safer, better, and faster. I couldn't be more pleased.
Dear PreVasive, As the owner of a cleaning company, I have to be WOWED!!!!! to look at a new cleaner. After learning and trying BAC, I was excited to find a truly green product made with organic whole plants. There are so many companies with untrue claims!!! It is important to me for myself and my employees to be working with safe, yet effective products. It is equally important when we enter a home or business to ensure their safety!! We love the smell of the special reserve blend (vanillin). We are using it everywhere since you do not have to rinse it. It has been a very tough season of cold and flu, so we spray this on all faucets and phones. We especially like BAC in the bathrooms, it is a good solid cleaner ranging from sinks to toilets. It is nice to do our part for protecting ourselves and the environment:)
Dear PreVasive, I have been in the restoration industry for 47 years and have used every product out there for sanitizing and stain removal. I was introduced to Jerry Bond and PreVasive Products a couple of months ago. I called Jerry to discuss an issue I was having, and he drove 7 hours to visit and help. As an owner, I am always interested in the best product that will save me money and time, but also has to be safe for my employees and clients. Prevasive is THAT product line. TRUE botanicals. We have been using BAC on all our water damage jobs and our crews are very impressed. Our clients also like the fact it is SAFE. We brought it in to a refinery client and never have we had such an easy time getting a product approved. We have used Oxy Orange, Botanical HP and WASP on our mold projects with outstanding results. I am so impressed with the effectiveness and safety of the products that for the first time in 47 years I have asked the manufacturer to be a distributor, this is how confident I am in Prevasive, I know I can sell it to other restorers