RTP Reinforced Thermal Plastic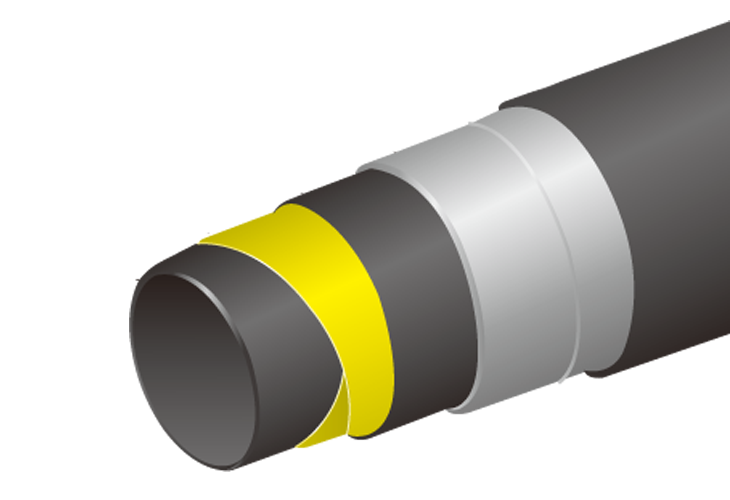 Reinforced Thermoplastic Pipe is one kind of high-pressure plastic compound tube with the outer layer and liner are a PE80 or a PE100, the outer layer according to needs to be possible to choose the white color (on the ground against ultraviolet ray) or the black color (underground), the intermediate layer is the enhanced tape, the reinforced material may be the polyester fiber or the aramid fiber or so on. The pipes use many kinds of connection forms such as enhancement in-line coupling, swaging fitting, flanged join to connect, the RTP pipe general application temperature, or -42°C ~ 135°C. The max operation pressure may reach 32MPa most greatly
Reinforced thermoplastic pipe (RTP) is an alternative to traditional pipe lining materials. It consists of three basic layers including a thermoplastic liner, helically wrapped continuous high-strength fiber reinforcement, and an external thermoplastic jacket. The liner acts as a bladder, the fiber reinforcements provide strength, and the jacket protects the load-bearing fibers. Applications include oil and gas gathering and produced water transfer.
The main products are all kinds of composited pipe including Reinforced Thermoplastic Pipe. The RTP product's research and development began in 2003 and was listed as the national project.
The company covers an area of approximately 16000 square meters, the fixed asset is about 7 millions us dollars, has staff of more than 70, including more than 20 engineers and technicians and 4 senior engineers.
The company has a production capacity of more than 1000 km per year. It is the global fifth and the sole manufacturer in Asia for RTP production.
The quality control system established by Aerosun has passed the ISO9001-2000 certification and API Spec Q1 certification.
The company has full-time inspectors, sub-procedures for the online test, to prevent unqualified products factory.
Engineering Innovation and Fabrication Technology
Technological research and development ability.
Our company's product is under strict observation of the international ISO, the API standard, and the standard design manufacture. These standards are as follows:
API RP15S "Qualification of spoolable reinforced plastic pipe"
ISO TS 18226 "Plastic pipes and fitting – Reinforced thermoplastics pipe systems for the supply of gaseous fuels for pressure up to 4 MPa (40 Bar)"
API RP 17B "Recommended practice for fixable pipe "
SY/T6794 "Qualification of spoolable reinforced plastic line pipe"
DIP 31.40.10.20-Gen Spoonable fiber reinforced plastic pipes
Specification Parameters
DN / ITEM
65mm
2.5in
80mm
3IN
100mm
4in
125mm
5in
150mm
6in
200mm
8in
250mm
10in
300mm
12in
Notes
OD
90mm
3.5in
105mm
4in
125mm
5in
155mm
6in
180mm
7in
250mm
10in
310mm
12in
365mm
14.5in
Max Delivery
Lenghth
(high way
transportaion)
800m
2625ft
600m
1970ft
400m
1310ft
250m
820ft
180m
590ft
17.5m
57ft
17.5m
57ft
17.5m
57ft
Working Pressure
2.6~4.5MPa
375~2100psi
2.2~12.5MPa
320~1810psi
1.7~10MPa
245~1450psi
1.4~8.0MPa
200~1160psi
1.1~6.8MPa
160~980psi
1.0~10.9MPa
145~1580psi
1.0~8.0MPa
145~1160psi
1.0~6.0MPa
145~870psi
The higher pressure RTP can be designed
Working
-40°C~85°C
The higher temperature RTP can be designed
Temerature
-40°F~180°F
The higher temperature RTP can be designed
The following detections and tests could be done by us:
Raw Material Density
Raw Material Moisture
Plastic Melt Index
Tensile Test For Fiber
Tensile Test For Enhanced Tape
Tensile Test For RTP Pipe
Bending Test
External Pressure Test
Long and Short Term Static Hydraulics Pressure Test.
Short Term Bursting Test
Thermal Stability Test
We have had the pressure piping design and manufacturing capacity and qualification may provide the pipeline design and may combine with the used international CAESAR, ANSYS, and the PE/PIPE software, carries on the flexible pipe arrangment stress analysis and the engineering design from the system of the part:
Design of the composite pipe and the connecting structure.
Analysis of structure stress
Intensity analysis of long term static pressure
Type selection and design according to the tension stress analysis for the flexible components
Stress Analysis of pipeline
Manufacturing in the factory and on-site service
Failure analysis and solution for pipelines
The walls both inside and outside of the RTP pipe have a good anticorossive property, , this made it suitable in many kinds of corrosive medium and each kind of corrosive environment. (Reference Standards: TR-19 thermoplastic piping for transport of chemicals)
RTP has high pressure capacity. By choosing different enhancement materials, the maximum service pressure may achieve 32 MPa, and the bursting pressure even as high as above 100MPa.
Heat Resistance and Thermal Insulation
The RTP's Application temperature range is -42°C ~ 85. It can satisfy the temperature demands of the majority of situations. And its thermal conductivity is only 0.48w/m*k, which is 1/100 of steel pipe.
The inner wall of RTP is very smooth which is hard for scaling and wax precipitation. The low flow resistance and permanent delivery capacity reduce the pipeline's maintenance cost.
Through a 70° inclined angle wear test (mud injection speed 14m/s), RTP's wear resistance is 5 times that of steel.
RTP's toughness extremely high which has good impact resistance, the ability of anti-ground vehicle load ability, anti-soil deposition, anti-earthquake, and so on. Because of RTP's good flexibility. RTP usually carries on the nature compensation through the serpentine layout while installing, without thermal compensation installation, and thus saving the installation cost.
The RTP can construct in coil like electric cable, which can be laid at least 3 km a day. When the pipe is laying, the long time maximum pulling force can reach 5 tons. And the instantaneous maximum pulling force can reach 10 tons.
The length of a single RTP amounts to 150-180 Meters. Therefore joints are fewer, which improves reliability and saves cost.
According to the German Wiecon Company demonstrated that compared with the carbon steel pipelines, the RTP could save over 25% of the investment.
The RTP is non-toxicity and not decomposing, which is an environment-friendly green material. It conforms to the GB/T 17219-1998 which is a safety assessment criteria for drinking water's transportation and distribution equipment and protective materials.
RTP's working life can be designed according to customer requirements. The maximum working life can reach 50 years.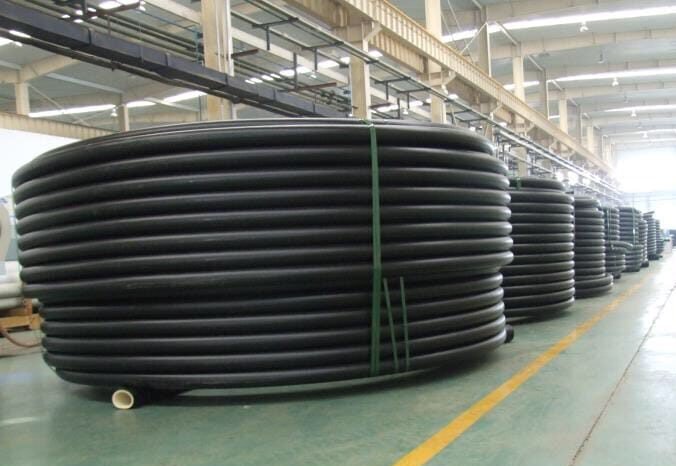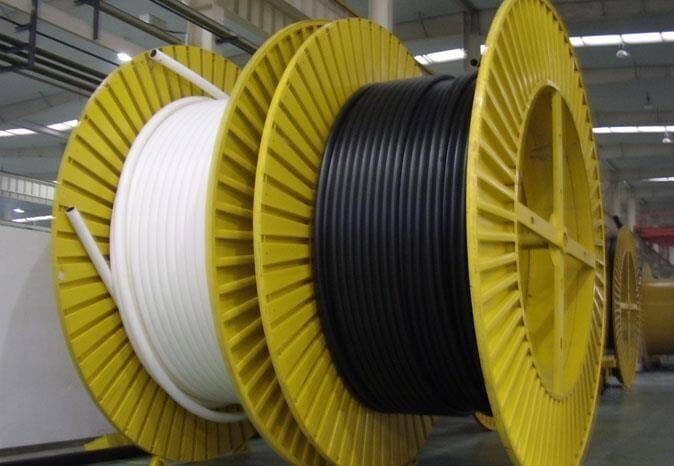 Crude oil gathering line, medicine pipeline, brine processing, sewage treatment, refined oil transportation. It is suitable especially for the transportation of medium with high sulfur such as oil, gas, and water, etc.
Heat supply pipelines
Hot spring and geothermal flowline
Offshore Engineering Project
Sub-sea flow-line, static riser, marine pipe insertion replacement, offshore test pipe system, topside pipeline.
Providing offshore application service of engineering, design, purchasing, installation, commissioning, intelligent detection, and so on.
The city water supply, and drainage pipeline; the pipeline of water-diverting (cross-ocean), seawater desalination pipeline.
The brine transportation pipeline, mine extracting and gathering pipeline for the salt mine.
The seawater ore wash and slang-off pipeline, discharge pipeline of corrosive liquid like acid and alkali