Backpack system designed for optimal portability and flexibility
What is included:
Main Control Unit on backpack
Solution/Disinfectant Tank (3 Gallon/11.36 Liters)
Nozzle Gun Assembly including choice of one nozzle
Tubing / Conduit Connection (5 feet)
The FogClean Lite is a backpack system designed for optimal portability and flexibility. The system enables users to efficiently maneuver and blanket an area with disinfectant fog. Users can also easily toggle between pressure settings on the nozzle gun assembly to produce a "dry" fog for hard to reach places or address potential airborne contamination or produce a "wet" fog per CDC protocol for certain solutions and applications. The FogClean Lite systems includes a 3 gallon tank and can fully disinfect a typical 150 square foot room (13 square meters) in less than 50 seconds, using approximately 0.07 gallons (0.26 liters) of solution. A typical 10,000 square foot facility can be completely sanitized in less than one hour, using only 1-2 gallons (7.5 liters) of solution.
FogClean Lite is currently being used for a wide variety of applications such as office and commercial buildings, health and wellness offices, fitness studios, first responder vehicles, transportation systems, hotel rooms and hospitality facilities and more.
Specifications
Tank Size Standard
3 Gallons (11.36 Liters)
Weight
15 lbs (6.80 kg)
SCFM @ 90 PSI (Nm3/h @ 6.2 Bar)
FCN-3: 3.5 SCFM (5.62 Nm3/h)
FCN-6: 7.5 SCFM (12.04 Nm3/h)
FCN-10: 9.5 SCFM (15.25 Nm3/h)
Droplet Size
0-10 um (3.9um average)
Surface Area Coverage per minute with FCN-3 Nozzle
144 sq. ft (13 sq. m)
Solution Used per Minute
FCN-3: 0.05 Gallons (0.189 Liters)
FCN-6: 0.08 Gallons (0.303 Liters)
FCN-10: 0.13 Gallons (0.492 Liters)
Dwell Time
Over 1 Hour
Features
Scuba style, fully adjustable backpack
Three gallon solution tank
Thermoformed, removable shell to easily refill the tank
Two setting trigger gun assembly to toggle between pressure settings
Quick swivel fit, single air connection line from system to compressor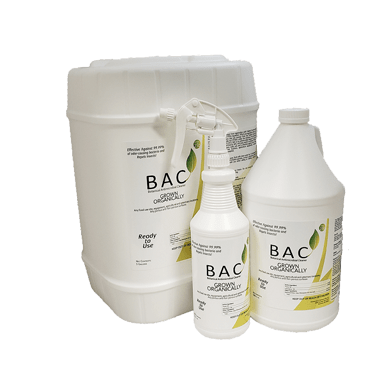 BAC (Botanical Antimicrobial Cleaner)
Is proven to be a 99.999% effective residual action cleaner.
Over 20 years of research, comprised of expert chemists and engineers, made with organic ingredients and recognized as safe under FIFRA by the EPA and FDA. Within minutes of application, BAC tackles surface damaging mold, organisms, pests, and insects, making it the leading antimicrobial cleaner for both commercial, residential, and agricultural use.
BAC is tough enough to clean surfaces in hospitals, schools, daycares and clinics; and yet gentle enough for household surfaces, including: glass, stainless, wood, carpet, and fabrics. BAC is safe for humans and pets- safe enough, even, to be used as a produce wash. BAC, when used on industrial remediation projects, both cleans and provides residual protection against future surface damaging mold and mildew.
BAC provides a sustainable, alternative to eco-destroying products. BAC can be applied as a mist (it doesn't need to be shaken or wiped off) and, unlike many harsh chemical products, it has mild wintergreen or lemon-fresh.
BAC's research team created a formula from whole plant naturally sourced essential oils, replacing toxic products and reimagining green, highly-effective solutions.
BAC is a much safer, organically grown antimicrobial, anti-fungal, and cost effective pest control product.
Our BAC Solution Combined With Our FogClean Machine
WHY TO RELY ON OUR SYSTEM
We understand that the market now is saturated with a huge number of disinfection products. Our FOGCLEAN BAC system has completely taken this to the next level as it is extremely high quality (LOG 5) and provides its clients with a huge cost-cutting.
Our FogClean Machine and Organic BAC disinfectant and sanitizing solutions are both produced and tested in the USA & the UAE. So far in our initial stages, we have found that our products together are able to save businesses around 30% to 50% in time and costs. Also, our Organic solution is made from whole-plant naturally sourced essential oils and not natural elements chemically formed.
Whereas, most common fogging systems used in the market today produce on average 30 to 40 microns and use around 500 ml of solution per minute.
Our new state of the art FogClean machine produces on average, droplets of around 3.9 microns whilst only using around 190 ml of solution per minute. With the airborne transfer being identified as the common effective way for Covid transmission, our product is currently the only portable commercial fogging machine that can work on airborne pathogens.
Our BAC solution is also registered with Dubai Municipality with a –LoG 5+ making it the most powerful organic solution currently available on the market today and recognized as safe under FIFRA by the EPA and FDA.
Our product is safe for humans and pets and can also be used as a produce wash. BAC is tough enough to clean surfaces in hospitals, schools, day-care, hotels, homes, entertainment venues, clinics, and any form of transport, and yet gentle enough for household surfaces including glass, stainless, wood, carpet, and fabrics.
Our machine can operate with either a Dry fog or a Wet fog meaning we can fog directly onto electrical items and as we would leave no residue behind, there would be no need for the surfaces to be wiped down afterward. We are also able to disinfect and sanitize areas of up to 33 sqm per minute.
Our team would appreciate the opportunity to visit you at your office and provide you with a live demonstration of our FogClean machine and discuss the possibility of how we can support and improve your efforts for keeping the UAE safe.
FOGCLEAN & BAC APPLICATION
The wonderful uses of BAC a truly botanical safe antimicrobial for multiple home use. BAC is by far the most versatile botanical antimicrobial cleaner available today. BAC can be used on soft and hard surfaces, food contact surfaces, glass, stainless and a multitude of locations as a fantastic antimicrobial cleaner and is 99.999% effective on odor causing germs. But did you know! BAC is great around the home, and yard for safe and effective control of mold, mildew and insects on plants, yards and fruit trees. And BAC is safe for pollinators, pets, humans and animals.
Our BAC (Botanical Antimicrobial Cleaner) is produced in the USA by Pervasive. And brought to you by Modern Supplies General Trading. Here is what our clients say about us:
Dear PreVasive, Our company recently started using Prevasive's products for mold remediation. I have been blown away with how effective they are. Not only do they give us amazing visual results, but our air quality clearance numbers have never been better. However, what I am most excited about is that these products are certified green and safest that we have ever used. This gives us a competitive advantage with our clients and eliminates exposure to our employees of some of the harsh chemicals we have used in the past. Our employees have given me incredible feedback on these as well. We have been using the OxyOrange for crawlspace cleaning and interior cleaning. The OxyOrange has outperformed any of the cleaning agents I've used in the past and has a very pleasant fragrance. I've also replaced our fogging agents and anti-microbial with BAC and it does an amazing job. Additionally, the Botanical HP has replaced our stain removers. Bottom line is we are now completing remediation jobs safer, better, and faster. I couldn't be more pleased.
Dear PreVasive, As the owner of a cleaning company, I have to be WOWED!!!!! to look at a new cleaner. After learning and trying BAC, I was excited to find a truly green product made with organic whole plants. There are so many companies with untrue claims!!! It is important to me for myself and my employees to be working with safe, yet effective products. It is equally important when we enter a home or business to ensure their safety!! We love the smell of the special reserve blend (vanillin). We are using it everywhere since you do not have to rinse it. It has been a very tough season of cold and flu, so we spray this on all faucets and phones. We especially like BAC in the bathrooms, it is a good solid cleaner ranging from sinks to toilets. It is nice to do our part for protecting ourselves and the environment:)
Dear PreVasive, I have been in the restoration industry for 47 years and have used every product out there for sanitizing and stain removal. I was introduced to Jerry Bond and PreVasive Products a couple of months ago. I called Jerry to discuss an issue I was having, and he drove 7 hours to visit and help. As an owner, I am always interested in the best product that will save me money and time, but also has to be safe for my employees and clients. Prevasive is THAT product line. TRUE botanicals. We have been using BAC on all our water damage jobs and our crews are very impressed. Our clients also like the fact it is SAFE. We brought it in to a refinery client and never have we had such an easy time getting a product approved. We have used Oxy Orange, Botanical HP and WASP on our mold projects with outstanding results. I am so impressed with the effectiveness and safety of the products that for the first time in 47 years I have asked the manufacturer to be a distributor, this is how confident I am in Prevasive, I know I can sell it to other restorers